Core Communication teaches a practical set of maps, skills, and processes central to any interpersonal situation and offers guides for relating effectively. The course assumes that just one skilled person can positively influence a situation.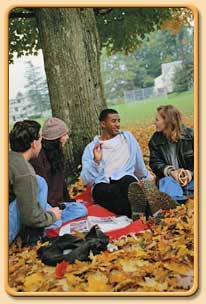 In Core Communication, you learn how to use:
Your S.O.S.™ Network to:
Consider how an issue impacts a whole relationship system - the people
an issue involves or affects
Make more effective decisions
Recognize how attitude and behavior reflect each other
The Styles of Communication® Map to:
Recognize ineffective and effective ways of talking and listening
Improve the quality of your communication
The Awareness Wheel® Map to:
Understand yourself better
Apply 6 talking skills to be clear and congruent — to use Aware Talk appropriately when it is important to do so
The Listening Cycle® Map to:
Tune in accurately to the other's perspective
Use 5 listening skills to connect — Attentive Listening
The Conflict Patterns Map to:
Gain insight into your own pattern of handling conflict
Change an unsatisfactory pattern into a satisfactory one
The SkillsZone Map to:
Respond effectively to challenging situations
Build rapport, manage stress, and stay skilled in difficult conversations
Special Processes to:
Respond to resistance to turn it into a resource
Respond constructively to Fight or Spite Talk
The Map-An-Issue Process™ — a guide that combines the 11 talking and listening skills to:
Create best-fit, collaborative solutions to complicated issues
Help you function better as a colleague, coach/counselor, or facilitator/consultant to work out an issue, decision, or conflict in a collaborative way

Convenient Formats for Learning
CORE COMMUNICATION is offered:
In a class with an instructor
By yourself with an instructor-coach

Learning Methods
Enjoy gaining new skills through:
Brief presentations of concepts, skills, and processes
Interesting demonstrations of communication skills and processes
Useful practice of skills and processes with real issues of your own choice (appropriate for the setting) using skills mats — innovative tools —to speed learning
Helpful coaching and feedback on your use of skills
Valuable application of your learning in real situations between class sessions
Your Privacy is Respected
You choose the issues and situations you discuss and practice


Participant/Student Course Materials
For CORE COMMUNICATION, each person uses a CORE Pac, which comes in one of two kinds: Large or Small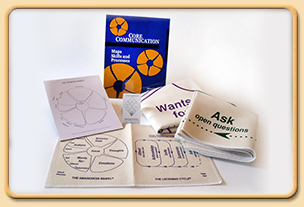 The Large CORE Pac contains:
1 CORE COMMUNICATION: Maps, Skills, and Processes Workbook (196 pages, 2011)
2 Large Skills Mats* (one for talking and the other for listening)
1 Small Tabletop/Laptop Skills Mat**
1 Awareness Wheel pad - an Awareness Wheel is printed on each sheet of the pad for use in processing current and future issues.
$42.00
The Small CORE Pac contains everything in the Large CORE Pac, except for the 2 Large Skills Mats
$33.00
* Large Skills mats are made of canvas cloth, each about 30 x 30 inches. Each mat has either the Awareness Wheel or the Listening Cycle Map on it, so that it can be stepped on during practice — for visual prompting, helpful coaching, and kinesthetic learning.
** Small Tabletop/Laptop Skills mats are made of canvas cloth, about 15" wide x 10" high, with both the Awareness Wheel and the Listening Cycle Maps on it. This mat is useful for visual prompting of skill use in a conversation.

Order Materials
Call: 419-278-0097
September 2015